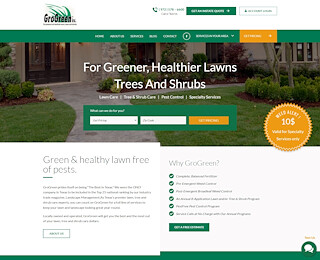 Things To Look Out For When Choosing A Company For Lawn Service In Plano
If you must hire a lawn care company to manage your lawn for you, then it is important you carry out a comprehensive research, so as to ensure that the company you end up with will deliver to you quality service. Making a wrong choice can cost you tremendous time and money. Below are some of the practical things to look out for when choosing a company for lawn service in Plano;
1) Reputation:
The internet has made things easy, you can know a lot about most companies by simply doing some online research. Before you hire any company for lawn service in Plano ensure to check out their reputation; what are people saying about them? Review sites such as Yelp can give you an idea of what type of company you are about to hire. Of course, some of these online reviews are written by disgruntled past clients who may have a bone or two to pick with the company. But what you should look out for are trends.
A company with a constant stream of negative reviews and detailed recount of their incapacity will most likely be an unreliable company.
2) Certified technicians:
When hiring a local company for lawn service in Plano, it is important you verify that the company employs the services of certified technicians. It doesn't take so much to mow a lawn, in fact, some companies are tagged "mow and blow", because all they do is to mow your lawn and blow the grass clippings of your property. But lawn care goes beyond mowing and blowing, there are other services which the company must offer clients.
3) License and insurance:
When searching for a company that offers lawn service in Plano, it is important to pick one that has the necessary license and is well-insured. The benefits of hiring a licensed and well-insured company far outweigh its drawbacks. Being licensed and insured reveals the professionalism of the company, it shows that they are not just trying to make some quick money on the side but they are a dedicated lawn care company.
Being insured help protects you, the property owner, from liability in the case of an accident. Also, if while mowing, damage is done to your property and there is no insurance, you will have to bear the cost of repair yourself.
4) Professional body or trade organization:
It is possible for a lawn care company not to belong to any professional body or trade organization and yet deliver a quality job. But the inclusion of a company in a state or national trade organization reflects their commitment to continual learning and obedience to the standards of the lawn care industry. Employing such company guarantees greater peace of mind.
5) Services offered:
Before you sign the dotted lines and commit yourself to any particular lawn care company it is important you have a good idea of the services that they can offer or plan to offer. Some of the popular services aside from mowing that you should expect from lawn care companies include; disease control, lime application, soil testing, grub control, fertilizer services and dethatching services.
GroGreen
9725786600
1300 Summit Ave, Plano, TX 75074