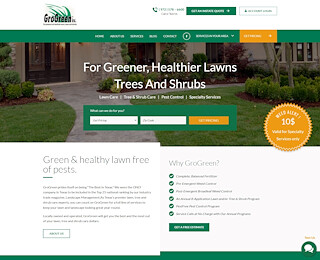 If weeds are a problem with your lawn you aren't alone. Many people in the area have weeds that are hard to control. It takes a lot of work to keep your lawn looking its best. To make the job easier and less stressful you can hire a professional lawn service in McKinney for weed control. There are many ways that a lawn care company will eliminate weeds and make your yard look amazing.
Weeds are a common occurrence and are hard to take care of on your own. You can count on the professional services of a lawn care company for McKinney weed control. Weed control begins with regular professional lawn services.
Our 8-application lawn treatment program includes 8 applications of various products throughout the year to keep your lawn looking good. Our treatment program will help eliminate weeds and provide general McKinney weed control for your property.
McKinney weed control isn't something you can think about once a year and then forget. Instead, you need to keep treating your lawn in order to fight weeds before they take hold. Our program provides treatments every season of the year.  Strong, healthy grass will help to keep weeds away.
Winter and fall treatments are specifically designed to prevent the growth of winter weeds, especially broadleaf varieties. Spring and summer treatments will feed your lawn and kill weeds that are starting to grow. Regular treatments will keep your lawn looking beautiful.
Specific Weed Control Treatments
If your lawn has a problem with particular types of weeds or has not been maintained for a long period of time you may need some specialty treatments. One of the most important things you can do for your lawn is provide aeration. Aeration treatments are generally recommended twice during each growing season.
Aeration is necessary to provide air to the roots under the soil. As soil continues to get trampled down it becomes more compact, reducing the ability for grass to grow properly. Aeration will improve your lawn and allow the grass to grow healthier and absorb the fertilizer and nutrients that are applied.
Some types of weeds are particularly hard to remove. For example, Dallisgrass cannot be easily removed because it only responds to harsh chemicals that are no longer allowed. Therefore, the best that can be done is to suppress their growth throughout the year.
Similarly, there is no product that can completely wipe out nutsedge from your lawn. However, regular treatment can help keep it at bay and ensure that your lawn looks its best. If your lawn is prone to grubs it is best to treat for them before they get out of hand. Special products are utilized to prevent them from taking hold in your yard.
The best McKinney weed control is done by a professional company with experience. We use the best and most effective products on your lawn to control weeds and to feed your lawn to make it look amazing. We offer complete lawn care services.  
GroGreen
9725786600
1300 Summit Ave, Plano, TX 75074