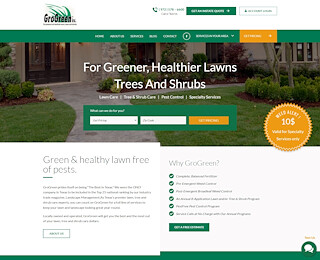 Why Call GroGreen for Pest Control in Frisco, TX:
At GroGreen, we understand how exhausting it can be calling around to agencies offering pest control in Frisco, TX. It's not only difficult to find a pest control service that offers affordable prices, it's also necessary to check into the types of chemicals being used to control pests inside and outside of a building. At GroGreen, we believe we've resolved these issues for home and business owners throughout the Frisco community, by offering safe, affordable treatments that are just as effective as traditional methods.
At GroGreen, we can assess, monitor, and treat your building at a price you'll be well-pleased with. Our techs are fully licensed as commercial, certified applicators, so you can sit back and rest easy knowing that experts are on hand to manage your pest issues. We don't believe residential pest control in Frisco, TX should be a complicated process. We recommend calling the leader in pest control for problems in your home or business pertaining to ants, termites, roaches, rodents, mosquitos, fleas, silverfish, or any other pests you've seen or suspect in your building.
Our experts can do it all with just 4 service visits per year, compared with other pest control companies that require 12-24 annual visits to stay on top of the problem. Those monthly or bi-monthly services are most likely spraying chemicals around your place that is being breathed in by family members, pets, and guests- and sprays don't get to the root of the problem. Killing pests on contact is not the way to manage a pest problem. We believe in destroying pests where they live- at their nesting sites, and that means using more conventional methods versus sprays.
If you're currently looking or a pest control in Frisco, TX that is more environmentally responsible, managing pests with no routine spraying of pesticides in your home or business, give us a call or chat live with one of our specialists and we'll custom create a strategy to eradicate pests from your building, or maintain its pest-free status. We offer the most value-priced pest service in the industry- we guarantee it!
Our Basic Protection program is guaranteed to offer insect control for centipedes, crickets, earwigs, millipedes, pill bugs, roaches, silverfish, spiders and other insects. You can request additional services for pests not indicated in the Basic Plan to include control of ants, fleas, ticks, rats, mice, termites, wasps, and other pests. Discuss your needs with our team when you call us at 972-578-6600.
You can be certain that at GroGreen, we have the health of your family, guests, pets, customers, and clients in mind- which is why we offer one of the most responsible pest control services in the region. Our treatments are not only safe- they are among the most effective available today. Call our crew and get rid of pests once and for all. We don't make promises we can't keep.
GroGreen
9725786600
1300 Summit Ave, Plano, TX 75074