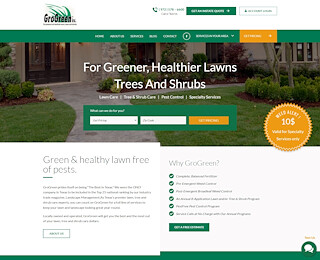 Year-Round Tips For Pest Control In McKinney, TX
When you buy your first home, you'll be excited and stressed out at the same time. With a new home comes new responsibilities. You have to confirm that the place is secure, comfortable and free of pests. Since you'll be moving into the area for the first time, it might be difficult to know whether it is infested except the previous owner is kind enough to tell you. Calling a company for pest control in McKinney is a good way to rid your new home of pests or confirm that it is pest free. If you're working on a tight budget, however, you can do the work yourself.
Pests thrive in places that have food and water. Remember that they are living creatures and as such, they need water and food to survive. They prefer hidden places. This is why the only way to find the habitat of pests is to check your house thoroughly. Also, since pests are so small, they don't need wide openings to enter your home. They can squeeze through tiny openings and navigate from one place to the other. So, to keep your house free of pest, you need to be vigilant all year round. You can't keep your home pest free simply by fumigating before you move in. You need to keep inspecting your home from time to time.
Tips For Year Round Pest Control in McKinney, TX
1) Check For Openings
Remember that pests can creep in through tiny openings. After you have fumigated the house, look for small cracks and other larger openings and seal them off. Check your foundation and siding joints to make sure there are no cracks. Your gas pipes, phone lines, cables and other openings near water should be checked. Use clear caulk to block openings in these areas. As a bonus, you'll be reducing energy consumption in your home by sealing cracks up.
2) Tighten Up Your Doors
Your doors should not have openings underneath. When you shut the door, it should seal entirely. Pests, especially rodents, can easily move around your house if your doors have openings underneath.
3) Check Your Vents
The openings in your vent should always be covered with wire mesh or hardware cloth as it is commonly known. This will keep pests away after fumigation.
4) Keep Your Home Clean
Your house should be kept clean at all times. Garden debris should not be allowed to accumulate. Fallen leaves should be removed and disposed of regularly depending on the season. Your yard and gutters should be clean at all times. Try as much as possible to keep things dry since most insect pests thrive in damp areas.
Note that the activities of pests depend on the season. There are some seasons when you'll be most likely to have a higher rate of pests trouble (spring and summer). Make sure you are extra vigilant at these times. Deal with outdoor pests as they come to reduce the chances of having an indoor pest problem. Remember, it doesn't stop at fumigation. Pest control in McKinney is a year-round process.
GroGreen
9725786600
1300 Summit Ave, Plano, TX 75074