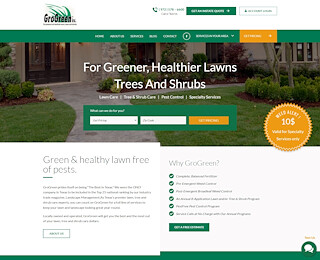 Top Reasons to Call GroGreen for Pest Control in Plano, TX:
At GroGreen, we receive a lot of phone calls from customers asking about our services. One of the top questions we receive is from homeowners who want to know whether we will spray chemicals around their home. We take a great deal of pride in being able to tell both our residential and our commercial customers that as an environmentally responsible pest control agency, we guarantee there is no routine spraying of pesticides in homes or businesses. That means a lot to our customers- and if it matters to you what your family, pets, guests or customers are breathing, we invite you to call us for responsible pest control in Plano, TX.
We serve a range of areas around the greater Plano region, and we believe our centrally-located facility is conducive to our customers receiving great service from us. When you need emergency pest control services, you can rely on our technicians to be there in a moment's notice. When you contact a big name company from out of town, you'll find they are simply unable to provide the kind of personal and prompt service that you'll get from us. We want to be remembered by our customers as a pest control service that arrives promptly and is able to get the problem in hand just as quickly.
You may have noticed that there is no shortage of agencies offering pest control in Plano, TX. Even though these agencies will all claim they can do the job, the fact is, only a handful of them have the equipment and knowhow to provide permanent pest control. The reason is simple; most pest control agencies are still using topical sprays that kill pests on contact but do nothing to destroy nesting areas and colony queens that are hidden deep below the surface area where you can't see them. Killing insects on contact may appear to do the job for a short amount of time, but unless the colony is eradicated, newly hatched pests will replace ones that were killed by the chemical sprays.
At GroGreen, we use cutting-edge technology and draw from a wealth of experience to provide permanent results when it comes to pest eradication. With just 4 annual visits, we can keep your home or business pest free, month after month, with no spraying. If your current pest control agency has told you they are unable to control pests without spraying chemicals, it's time to tell them to pack up their poisons and leave. You deserve a chemical-free space without overpaying for service. We can deliver to your satisfaction- guaranteed.
Whether you've seen the tell-tale signs of pests in your home, suspect you have a pest problem, or simply wish to maintain a pest-free zone, we have an affordable service plan to meet your needs and budget. We welcome your call at GroGreen at 972-578-6600. Let us show you what affordable, effective pest control should look like.
GroGreen
9725786600
1300 Summit Ave, Plano, TX 75074