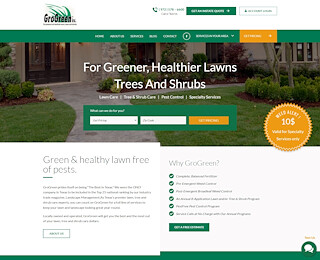 If you dream of a lush, green lawn you can make your dream a reality. You don't need to struggle with a dingy lawn that is marred by weeds and unwanted thatch. Instead, you can get the most from your lawn with a leading Plano grass fertilizer service. Fertilizer can improve the appearance of your lawn and make your yard more enjoyable. There are a variety of treatments that can be used to make your lawn greener and healthier.
Lawn Treatment Program
Our excellent lawn treatment program consists of granular and/or liquid fertilizer applications. The fertilizer is chosen based on the specific needs of your lawn and for seasonal weed control. The regular use of a Plano grass fertilizer service will enhance your lawn year-round.
Our best lawn treatment program includes year-round care with 8 treatments. Each treatment is specifically tailored to the needs of your lawn. The winter application is generally a liquid application to control common weeds such as henbit, grasses, chickweed and others. In the early spring we apply another dose of liquid weed control.
In the spring we apply either granulated or liquid slow-release formula to the lawn. This balanced fertilizer stimulates growth to quickly produce a beautiful green lawn. We also apply weed control as necessary. During the early summer, summer and late summer we again apply slow-release, balanced fertilizer in either granulated or liquid formula.
Fall and late fall include two more treatments with liquid weed controls. These are designed to eliminate and control the growth of early winter grasses and broadleaf weeds. The yearly Plano grass fertilizer service plan includes additional service calls if needed.
Additional Treatments
Some types of weeds are extremely stubborn and require the use of additional products or treatments. For example, Dallisgrass and Nutsedge are two types of weeds that require specialty services. Dallisgrass cannot be easily removed because the use of herbicides that kill it are no longer allowed. We do have products that we can use to suppress Dallisgrass and will reapply them throughout the season.
Nutsedge also requires special treatment. It is a common weed but one that doesn't respond to typical weed killers. Purple and yellow varieties are the most common types found in our area. Grubs are another problem that can ruin beautiful lawns. Grub prevention is best accomplished in the earliest stages before they take over the lawn. Regular grub treatment will prevent these annoying pests from taking hold of your property.
Your lawn becomes compacted over time and therefore the grass cannot grow properly. Aeration treatments can be done twice a year or as recommended. Aeration is done using a special machine that removes small cores throughout the entire lawn. The holes allow air to get into the soil and improve the intake of fertilizers and other products that are applied to your lawn.
Lawn care is important and it can be accomplished easily with help from a professional Plano grass fertilizer service. Contact us today to learn more and to get a quote for our excellent lawn services.
GroGreen
9725786600
1300 Summit Ave, Plano, TX 75074