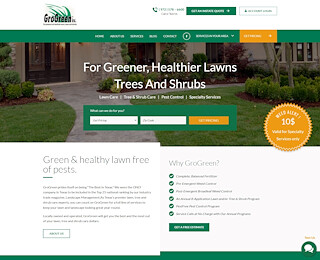 If you care about your lawn you probably spend many hours a year working to keep it looking good. Sometimes that can be difficult, especially when there are so many different types of weeds and grubs that can take over and make our lawns look terrible. You need professional Plano grass treatment to keep your grass healthy and beautiful.
Regular Plano Grass Treatment
Regular Plano grass treatment will give your lawn the fertilizers and nutrients it needs to stay healthy and fight weeds. You can choose our exclusive 8 application lawn treatment program. This program provides comprehensive care to handle the common types of weeds and to feed your lawn to make it look its best.
You will receive 8 treatments throughout the year. In the winter and early sping we apply pre and post emergent weed control products. Liquid application controls winter grasses, henbit, chickweed and additional types of broadleaf weeds. In the spring and summer months we begin treating your lawn with granular or liquid slow-release fertilizer that will feed your lawn and promote healthy growth.
Weed control products are also applied during the summer months. This will be done based on the individual needs of your lawn. In the fall we again apply weed controls to keep early-germinating weeds from growing.
Our Plano grass treatment is the best and most thorough possible. We use the best products so that your lawn will always stay as healthy as it can. We work hard to make sure that your lawn is treated with the products that will keep it in good condition all year round.
Additional Lawn Care Treatments
In addition to our excellent Plano grass treatment program, we also offer individual services aimed at resolving specific problems with your lawn. A good lawn requires high quality soil. When the soil becomes compacted it can no longer provide your lawn with the best method for obtaining food and nutrients. You can resolve the problem and improve your lawn with regular aeration treatments.
Aeration is done using a special machine that removes small plugs of soil throughout the entire lawn. This allows for air and fertilizer treatments to be able to reach the roots of the grass. In general, you should have your lawn aerated about twice a year for optimal results.
Some types of weeds are more stubborn and require special treatment. Dallisgrass and Nutsedge are two of those types of weeds. They can't be eliminated completely but they can be controlled using specially formulated products on a regular basis.
Grubs can overtake your lawn and make it look terrible. We can treat your lawn to prevent grubs before they take hold in your yard. These special treatments are helpful to reduce the grub population and keep your lawn healthy and attractive.
Additional treatments are available for trees and shrubs. They require regular care to keep them healthy and happy. You can achieve an amazing, lush lawn with regular grass, tree and shrub treatments. Contact us today to learn more about our programs and to obtain a quote.
GroGreen
9725786600
1300 Summit Ave, Plano, TX 75074